If you can manage the challenges, selling on Amazon is a terrific way to generate money. Every Amazon business relies heavily on keywords, and conducting keyword research is one of the most challenging tasks you'll have to complete.
Despite how crucial keywords are, only a select few merchants have been able to find them. However, when it comes to selling on Amazon, keywords are absolutely crucial. Thus, including keywords in your visibility plan is essential if you want to create a successful firm.
You can conjecture wildly by conducting arbitrary Google searches. But if you want to make record-breaking sales instead of none at all, you need to know where to look for high search volume terms. Therefore, you should employ an Amazon suggestion expander if you are having problems coming up with a relevant keyword mix for your products. This post contains detailed information on this mysterious gadget.
Customers frequently use specific search phrases when they shop on Amazon. Amazon's search engine uses keywords to deliver products that fall under a specific search category. Sometimes the search engine proposes more effective ways to look for the product. It accomplishes this by using the autocomplete feature to display various search alternatives. This is how it appears:

Finding desired things is made simpler for customers by these keyword combinations. Thanks to the fact that the algorithm was designed for both vendors and shoppers, this feature is available. An Amazon suggestion expander can help in this situation.
The majority of your research as a seller is done behind the scenes, therefore you'll need to include keywords while establishing your listings. Using a variety of pertinent keyword combinations in your listings is a smart practice. How can you find the ideal combination of highly searched-for keywords to add in your listings for the best conversion rates? Use an expander for Amazon suggestions.
What Is An Amazon Suggestion Expander?
A chrome extension tool for Amazon sellers is called an Amazon suggestion expander. This Chrome add-on forecasts search suggestions and displays words that are most likely to come before and after your root phrase.
More than 12 million products are available on Amazon.com (Source: Big Commerce). However, the majority of them fall under the same umbrella or subheading. For instance, on Amazon, if we click on the "Baby" category, a number of subcategories appear. There are various items under the subcategory of clothing and accessories. Despite having different sellers, the most of them are part of the same brand. Even the titles of several of these products are similar, with just minor changes.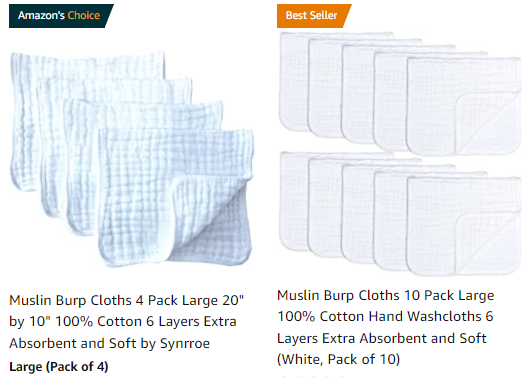 These goods are probably from dealers who employed a suggestion expander. The search suggestions will demonstrate the most effective keyword combinations for you.
You must employ keyword combinations relating to your products in order to optimise your listings. Coming up with a solid keyword combination off the top of your head is very difficult. So using a suggestion expander is a low-stress technique to find keyword combinations with high search volume. Here is an example of what you might receive if you sell board games and employ a suggestion expander.
Choose the best appropriate term combination from the search options the Chrome extension tool will offer. Why should you utilize an expander now that you are aware of what it does?
Why You Should Use A Suggestion Expander
Whatever business model you choose, you must identify and include in your listings keywords with significant search volume. Any merchant can utilize an Amazon suggestion expander, according to this. Why should you utilize an Amazon suggestion expander now that you are aware of what it does?
Access To A Vast Set Of Search Suggestions
Chrome extensions constitute the majority of suggestion expanders. Thus, they continue to function even as you type in the Amazon search bar. All you have to do to access the Chrome extension's extensive keyword database is enter a root keyword into the search field.
Easier and More Effective Keyword Search Process
Having access to this extensive database of terms significantly shortens the research process. In your listings, use various keyword mixtures or combinations. Remove keywords that aren't generating any traffic. then swap them out for fresh ones without doing another test.
Simply download keyword recommendations into a spreadsheet will do. So you can periodically reshuffle or choose a new batch by returning to the spreadsheet. Additionally, these keywords make it simple for you to explore new Amazon niches.
Better Visibility and Improved Conversions
The use of keywords is crucial, particularly if you want to increase visibility. When you have access to hundreds of keywords, your visibility will soar to new heights. Never undervalue the influence of suggestion expanders. Choose the best keywords, then watch your visibility soar.
Best Amazon Suggestion Expanders For Sellers In 2022
It could be challenging to pick just one idea expander from the several that are offered. If you've never used one, it's even worse. There are numerous choices, and each one touts itself as the greatest. Here are few that have piqued our interest.
AMZ Suggestion Expander Pro
By displaying potential term combinations, this Chrome extension tool broadens the search possibilities. You can download these keyword or search suggestion recommendations into a spreadsheet as well.
Just below the suggestions, a list of popular terms is also shown. It provides connections to search engine results as well as estimations of the search volume. The programmed also includes a word analysis sheet that shows the frequency of each word.
Keyword.io
You have access to hundreds of Amazon's search suggestions using this tool. You can browse this list and choose keywords by yourself. If you want, you can add each keyword individually by clicking the "Add all" option next to it.
By copying the search results to your clipboard or into a text file, you can compile a list of the keywords you've downloaded. The tool for creating an Amazon keyword list allows you to import the downloaded keywords. You can download this Chrome extension utility from any Chrome online store. Despite having a paid version, it is available as a free utility.
Autosuggest
This is an internal system that most search engines employ, not a Chrome extension tool. To begin using autosuggest, launch an incognito browser window. Press Control + Shift + N to do this. This launches a fresh browser with no cached data from earlier queries. You are able to view the data objectively as a result.
Visit any website you like. Next, use the website's search bar to run a keyword search. This application functions exactly like any other standard expander that you can get from the Chrome web store. You'll see a list of terms that customers already use in the search results when you start typing your seed keyword.
How To Choose The Best Amazon Suggestion Expander In 2022
When selecting an expander, there are a few things to keep in mind. Two of the most significant ones are included here.
Price
The majority of keyword expanders are free, however not all of them. You can choose between subscription plans if you want access to all the features or more frequent searches, or you can utilize solely the free tools. A free tool will be excellent if you don't use it frequently.
Reviews
Take a look at user reviews of the Chrome addon. Make sure they offer reliable keyword ideas before you utilise them. If so, it can be a waste of time and money to use them in your advertising. If a tool has a lot of good feedback, it probably functions well. The reverse is evident from bad reviews. You might want to reconsider utilising a tool if the majority of people complained about it or gave it a rating of fewer than three stars.
You should act quickly if you find an expander that fits your budget and performs admirably. How do you use the search recommendations that the Chrome addon provides now?
What To Do With Your Keyword Suggestions
What should you do next after receiving keyword and search ideas from your expander?
Create a list of keywords
Numerous keyword ideas are produced by the suggestion expander. However, not all of them promise success. You would have to carefully choose from the many possibilities, whether your objective is more sales or visibility.
It may be difficult to choose relevant keywords from the search bar results, but here is one approach. Make a list of the most pertinent search suggestions by pasting the suggestions into a spreadsheet. Select a few keywords to utilize in your listings from your final list. Use your desired keywords when creating your listings next.
Optimize your listings and PPC campaigns
Conversions do not come from simply generating a list of keywords. To make that happen, you must establish and improve your listings. Use of keywords in titles and descriptions is one method of listing optimization. The secret is to randomly choose keywords from your list of keywords since you already have one. Use them in your advertisements and listings after that.
After that, perform an ongoing inspection. By doing so, you may determine which keywords are most effective for your listings and which ones are not. You can remove the non-converting keywords once you've identified them. Use only keywords in your listings and advertising that result in conversions; otherwise, you won't see any results.
How To Optimize Your Listings
Making listings is not always a simple chore, especially for novices who are unsure of what it involves. The following suggested practices can assist you in optimizing your listings.
Choose Relevant Keywords
You might be tempted to select keywords at random if you have access to hundreds of keyword recommendations. Do not overuse irrelevant keywords in your listings, especially ones that are not specialized by product or market.
Select Correct Product Categories
It's best to choose specific product categories wherever possible. If your listings are incorrectly categorized, some buyers may search by category. To avoid losing out on sales, you should therefore list your products under the appropriate category.
Don't Duplicate Product Pages
Don't make separate pages if your product is available in different sizes and colors. If you don't produce distinct search results, customers will find your products more quickly. Every item in Amazon's inventory has a description that is searchable. Confusion and redundant content are avoided by doing this.
Use Clear Titles and Descriptions
The secret to buyers finding your products and getting crucial information is in the product titles. Make sure they are clear and describe the product you are giving. Here is a manual to assist you in creating better product titles.
[Brand], [Sub-Brand], [Model Number], [Size or Specifications], [Product Description], and [Product Features] are the components of a product. Remember to utilise keywords. Your listing's description is where you may persuade potential customers. You should be careful with your descriptions and include enough information. Include all keywords or search queries that are relevant to your products.
Include the product's technical and physical requirements as well. For easier reading, don't forget to include bullet points.
Include Product Reviews and High-quality Images
Reviews are the next thing a prospective buyer looks at after descriptions. Nobody wants to spend their money on a product that is just words and no good. Customers can recognise that a product is worthwhile when you add reviews in your listings, which demonstrate that other people have used it. Gaining customers' trust is made easier the more reviews you have on your listings.
Amazon requires product photos to be at most 5-6 images and 1000 × 1000 pixels in size. Use items that clearly depict the product's features and capture it from all sides.
Best AMZ Software For Listing Optimization and Keyword Research
The process of listing optimization is simpler than you would have thought. You can use Amazon software if you don't want to concern yourself with the difficulties of the procedure.
The best program for listing optimization and keyword searching is Techpotamus. An array of listing and keyword tools are provided by the software. The instruments for listing are adaptable. You have two options for creating listings: you may do it yourself or hire a group of professionals.
Two affordable paid options are available from Techpotamus. However, you can join up for a 7-day free trial if you don't want to commit fully.
Conclusion
A useful tool for sellers trying to increase visibility and sales on AMZ is an Amazon suggestion expander. The ideal method for achieving the desired outcomes is to combine AMZ software with suggestion expanders. Scale your corporation now that you are aware of what a suggestion expander is and how it can benefit your research procedure.
FAQs