[2023] Can You Screen Mirror without Wi-Fi? Quick Solutions Here!
The experience will be better if you use Wi-Fi, but you can screen mirror without it by using a wireless display technology like Miracast or Chromecast. Your sending and receiving devices will now be directly connected as a result.
But because Miracast only works with Android devices, screen mirroring from an iPhone to a smart TV requires Airplay or an HDMI connector.
Without Wi-Fi, is screen mirroring possible? "Yes".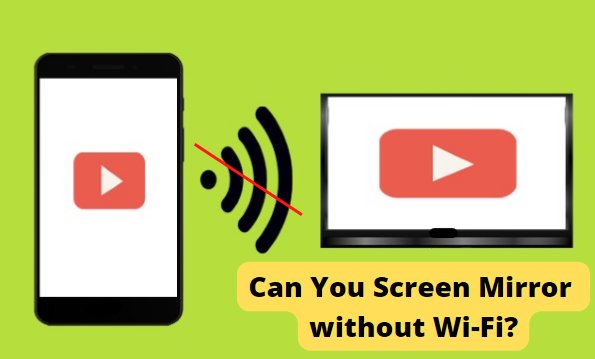 This article examines various wireless connection methods, such as Peer-to-Peer Airplay, using an HDMI port to link an Apple Lightning connector, Miracast, and Chromecast.
1. How to Do Screen Mirroring without Wi-Fi?
A small screen can make watching a movie uncomfortable and cause squinting. Without Wi-Fi, is screen mirroring possible? Yes, there are several ways to mirror your phone to a TV without Wi-Fi.
Screen Mirror Android/iPhone/Tablet to PC without Wi-Fi
Use the AirDroid Cast app to screen mirror an Android, iPhone, or tablet to a PC without Wi-Fi. To share your device's screen with a computer, you need screen mirroring software. Five devices can be simultaneously cast onto a PC using AirDroid Cast. It works with Windows, Mac, Android, and iOS.
Multiple connection options are available with Airdroid Cast, including Wi-Fi, USB, and Airplay. We will go over utilizing a USB cord to connect AirDroid Cast in this section. The screen of your Android device can be mirrored via a USB cable, which is extremely reliable and immune to network changes. Without any wait, you can get a high-definition screen.
Mirror screens to PC without Wi-Fi via AirDroid Cast
Step 1: To install the AirDroid Cast App on both your PC and mobile device, go to the official website of AirDroid Cast.
Step 2: Launch AirDroid Cast on your computer, create an account, and log in. For "Cable" Connection, click. A Wi-Fi network is not required for this strategy.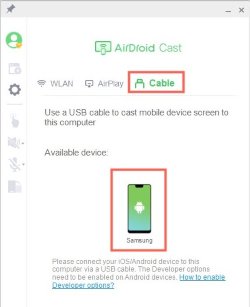 Step 3: Use a USB cord to connect your mobile device to the PC. Select your device from the list of supported devices. The two devices may show a pop-up window when you connect them. Allow the connection permission in this window.
Step 4: Following a successful connection, your device's content will be instantaneously displayed on the other device.
Screen Mirror Phone/Computer to TV without Wi-Fi
Peer-to-Peer Airplay, first (iOS only)
You will need an iOS device that is a 2012 model or later and that is running iOS 8 or higher in order to use peer-to-peer Airplay. Peer-to-peer Airplay without Wi-Fi is supported by the most recent Apple TV models, such as the Apple TV 4K or Apple TV HD. Here's how to go about it:
Disconnect Wi-Fi (touch Forget Password to prevent auto-reconnection) on both your Apple TV and your iOS mobile before you start.
Pair your iPhone with the streaming device by opening the "Bluetooth" options.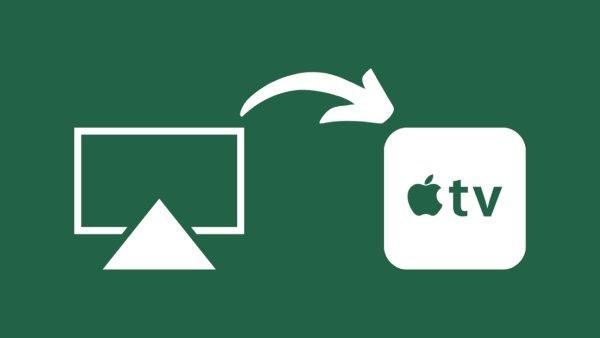 Open the Control Center after activating Wi-Fi on your iOS device, but before connecting. The screen mirroring controls for Airplay will appear.
Tip : Restart your iOS device or try moving the devices closer together if it still doesn't appear.
4. Your iPhone's Airplay device list should now include our streaming device.
5. The connection password will appear on the screen of your TV. Tap "Screen Mirroring" and type it in.
2. Use Apple Lightning Connector to HDMI Port (iOS only)
Using a wire is another way to reflect your iPhone's screen. The bottom port on your iPhone is connected to an HDMI cable using the Apple Lightning Connector. This process is quick and simple, and it excludes the need of an Apple TV. This approach is effective as long as your TV has an HDMI port.
Plug your phone into the Lightning connector before attempting to connect any other devices to your TV.
Next, connect the Lightning Connector to your TV using an HDMI cable.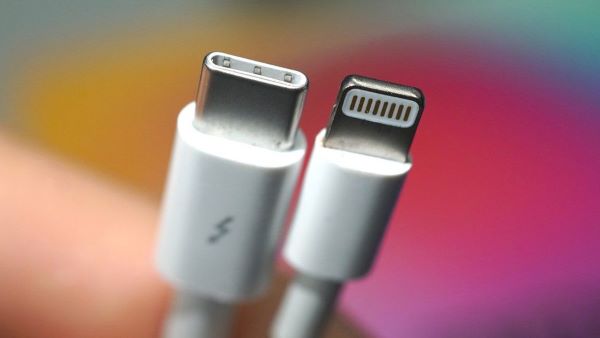 Instantly, your TV will mirror your screen.
3. Miracast
The feature known as Miracast allows one device's screen to be shown on another. Instead of requiring Wi-Fi, this programmed establishes connections between devices via Wi-Fi direct. However, you can only utilize this technique if your TV and smartphone are both Miracast-compatible.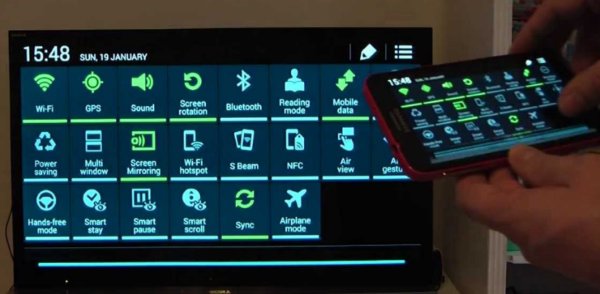 Start by navigating to the 'Settings' tab on your phone to link it to your TV.
After that, touch on the area for connected devices.
The wireless display feature can then be enabled by clicking on "Cast" after that.
After that, you may choose your TV from a list of accessible devices and connect to it.
If your TV requires it to connect both devices, provide your consent.
4. Chromecast
An external device called Chromecast can be used to mirror Android's screen to a TV and stream videos. If you already own the device, screen mirroring Android to TV is simple, but there are a few things you should verify before. To begin screen mirroring, make sure your phone is running Android version 5 or higher and follow the instructions below.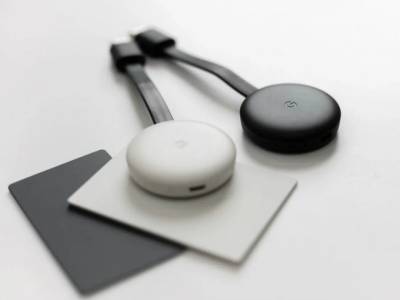 This strategy requires the use of two mobile devices.
Using a hotspot, link the two mobile devices together.
Get the Google Home app installed.
As soon as you launch the Google Home app, a "mirror device" button will show up.
To cast your screen, select the mirror option and then your Chromecast device.
2. Detailed Guides – Screen Mirroring to Popular TVs without Wi-Fi
You may screen mirror popular smart TVs like Samsung, Apple TV, and Roku to other devices in this section for a better experience.
Screen Mirror without Wi-Fi on Samsung TV
If you have a Samsung smart TV, can you screen mirror without Wi-Fi? It depends, is the response. While some Samsung TVs can connect to Wi-Fi, others don't even require it. It just depends on the technology you're utilizing and the model of TV you have.
However, generally speaking, having an internet connection can speed up data streaming and make the casting process much more efficient.
Mirror Android Screen to Samsung TV
Without using Wi-Fi, you can mirror the screen of your Android handset to a TV. It will only function with a Deck cable or a USB-C to HDMI connection. Follow these steps to accomplish this: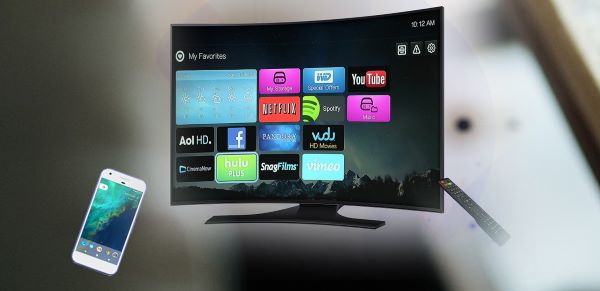 Plug one end of the HDMI cable into the TV's HDMI port and the other end into your phone or other smart device to connect your phone to the TV.
After the cable has been connected, swipe down from the top of the screen to access the notification panel on your mobile.
To switch to screen mirroring, tap the notification that says "Tap here."
Choose the appropriate source on your TV (it may be called "HDMI" or something similar).
Mirror Computer Screen to Samsung TV
You may connect your PC to your TV by following a few straightforward steps.
First, select Devices in the Settings app on your computer.
After that, select Add Bluetooth or other devices by clicking Bluetooth & Other Devices.
When your TV's name appears, pick Wireless display or dock and wait a short while.
Finally, when the permission prompt displays, click on the name of your TV and choose Allow.
Screen Mirror on Roku TV without Wi-Fi
Can you use Roku without Wi-Fi to screen mirror? If you wish to cast offline video files or internet content seen on mobile data, you can connect your devices (Android/computer) to Roku without Wi-Fi. For people without a wireless network setup, this is extremely helpful.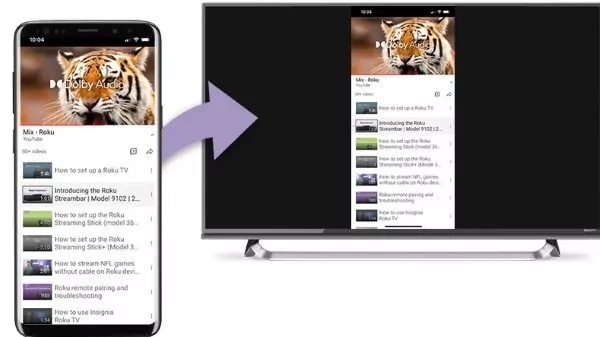 Mirror Android Screen on Roku TV
To mirror the Android screen to a Roku TV without Wi-Fi, follow the instructions.
Open the "settings" menu on your Android device.
Select "connection preferences" from the "attached device tab" after opening it.
Feature of screen mirroring search
Examine the list of devices that are available.
Now select the Roku TV you want to use for screen mirroring.
Mirror Computer Screen on Roku TV
To view all the icons in Windows Action Center, press Windows key + A.
On the expanded action center, click the "Connect" icon.
There will be a list of wireless displays and gadgets. Select a Roku TV.
When requesting for video casting to TV, two options—"allow" and "always allow"—will be displayed. To confirm any, click "ok."
Screen mirroring from the computer to the Roku TV will start.
Go to the "Action Center" and select "disconnect" to halt screen mirroring.
Screen Mirror to Apple TV/Airplay 2 Compatible TV without Wi-Fi
Users of iOS ask if they can screen mirror to Apple TV without Wi-Fi, just like Android users do. To that, I say YES.
Apple TV with iPhone/iPad included
Follow these instructions to start screen mirroring from an iPhone or iPad to any Apple TV.
To link, go to "Control Center" and select "Airplay."
On iOS devices and Apple TV, a 4-digit passcode will be displayed. On your iOS device, type it in.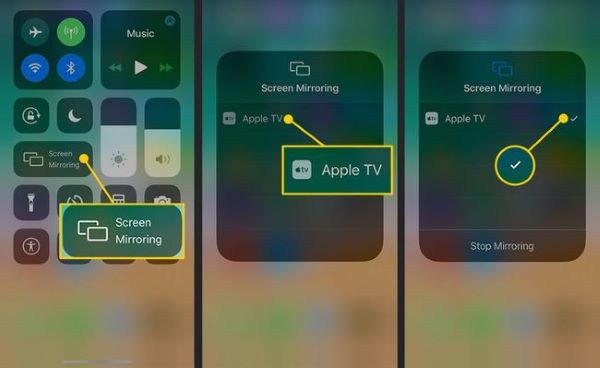 For a connection to work, the 4-digit passcode on iOS devices and the Apple TV must match.
Wait a few while while Airplay configures itself for screen mirroring.
From iPhone/iPad to Airplay 2 Compatible TV
Follow the instructions to stream video from your iPhone or iPad to an airplay 2 compatible TV.
Your two devices must be connected to the same Wi-Fi network.
Look up the video you wish to watch.
Now click "AirPlay" to view the list of compatible devices.
From the list, pick your AirPlay 2-capable TV.
Mirroring of the screen will start right away.
Screen Mirror from MacBook to Apple TV Using Airplay
Follow these instructions to begin screen mirroring from a MacBook to any Apple TV.
Enable Bluetooth and Wi-Fi to use Airplay without a network.
On your Mac, click the "Airplay status menu" in the top right corner.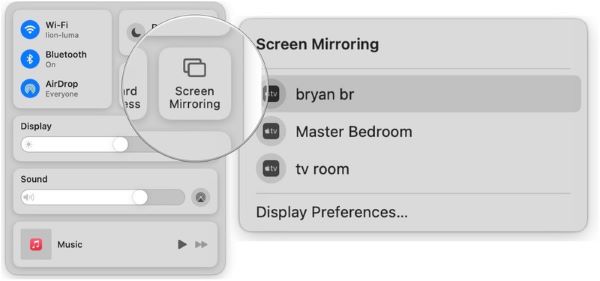 On Mac and Apple TV, a 4-digit passcode will be displayed. Use your Mac to enter it.
Airplay will take a while to connect for the first time.
Final Conclusion
You can utilize a number of techniques to answer the question of whether you use screen mirroring without Wi-Fi, including AirDroid Cast, Miracast, Chromecast, and using an Apple lightning connector with an HDMI cable. Make sure to select the choice that best meets your needs because each has benefits and drawbacks.
The best way to mirror your phone to a TV without Wi-Fi is to use the AirDroid Cast software, out of all possibilities. This stress-free, limitless technique is compatible with all phone models. For some of these procedures, the alternate solution might require the acquisition of additional equipment.
FAQs